Avon Walk Around the World
for Breast Cancer
Launched in 2005, the Avon Walk Around the World for Breast Cancer is a unique worldwide series of creative events designed to raise funds and awareness for this important cause.
Over the years, activities have included walks, runs, concerts, conferences, educational seminars and more. These events have taken place in hundreds of diverse locations, from Guatemala City to Kuala Lumpur to Prague, in historic sites such as the Great Wall of China, the Kremlin and in the central plazas of Mexico City. This global series of events now mobilizes more than a quarter of a million people each year in more than 50 countries to help end breast cancer and ensure access to quality care. To date, over 800,000 people have participated in raising more than $8.2 million for the breast cancer cause since the global series began.
The need for continued awareness and funding for the breast cancer cause is great. While advances have been made, breast cancer remains the most commonly diagnosed cancer among women worldwide. According to the World Health Organisation, breast cancer is responsible for 502,000 deaths per year worldwide.
In March 2008 Avon in the UK held its first ever event as part of the global Avon Walk Around the World for Breast Cancer programme. The event was run in partnership with Northamptonshire charity Crazy Hats Breast Cancer Appeal.
Each year since, the Crazy Hats walk has become bigger and better! In 2011 almost 3000 people took part- all wearing crazy hats and having a thoroughly good time despite the chilly conditions; raising vital money for the breast cancer cause.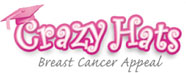 A fantastic £80,000 was raised in 2011 to enable to charity to provide practical advice and emotional support to women affected by breast cancer. It will also help to fund the charity's projects with Kettering General Hospital, Northampton General Hospital and Leicester Royal Infirmary to help improve care for women suffering from breast cancer across Northamptonshire, where Avon UK is located.